Everyone is welcome at Big Mama's house for the holidays! Come in and celebrate with Big Mama's family and enjoy a tasty new tradition of mouthwatering main courses and scrumptious side dishes shared with smiles and seconds everyone!
Regular price
Sale price
$3.15 USD
Unit price
per
Sale
Sold out
Share
View full details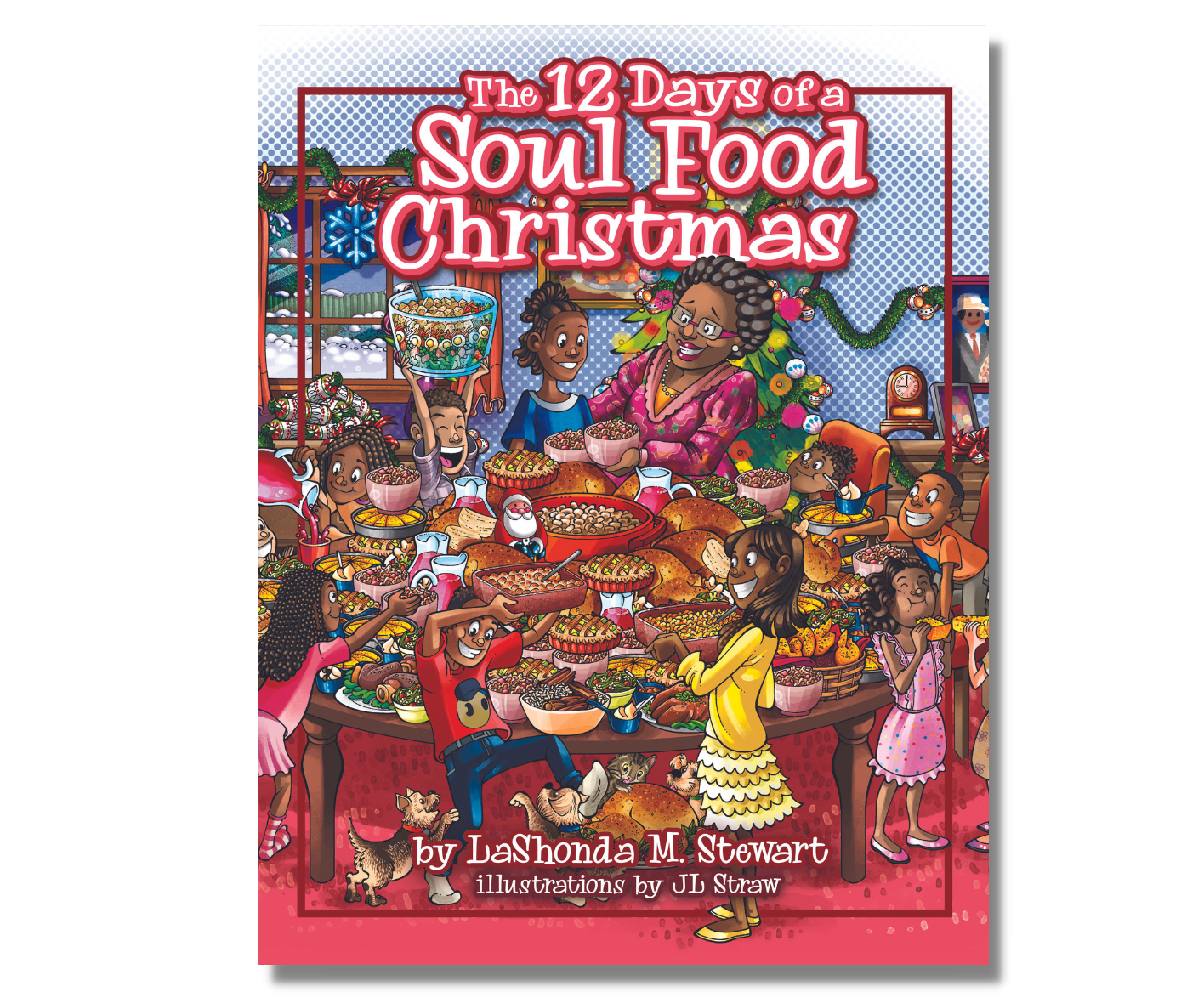 What Parents are saying...
"This is so cute!!  For those of you who were raised in a closely knitted family in the Black community, and had a big mama, mawmaw or momo (whatever you called her), this hits home. It brings back memories and reminds you of some of the "traditional" cuisines that were common during family gatherings. I love this book. Make it part of your family's Christmas tradition."
- Glenda G. Brown
"This is an awesome children's book. The 12 Days of a Soul Food Christmas book will go down in history as a book that keeps our cultural heritage alive. It's well written and illustrated, so much so that it's a keepsake not only for children, but for adults as well. Genius!"
- Bruce George
Founder of the Genius is Common Movement, Co-Founder of Def Poetry Jam on HBO.
"I originally bought this book to share with my students. My grandson was over when it arrived so we read it together (I tried so hard not to sing it, but failed miserably). We had a wonderful time talking about the foods we liked, the ones we didn't and how long it would take the grandchildren to eat everything. I would definitely recommend this book to others."
- M. BROWN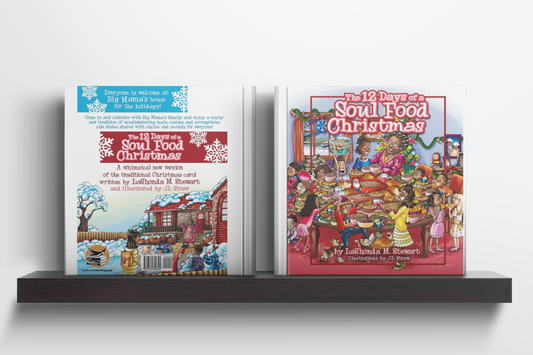 ENJOY A FREE PREVIEW
Read the few pages of The 12 Days of a Soul Food Christmas
NOSTALGIA

This book would be great to have for those families not able to get together for the holiday. It creates nostalgia or a longing to be with or reminisce about good family times, showing pictures of food items cooked for the holidays, and playing family games that could include singing The 12 Days of a Soul Food Christmas as a fun activity on Zoom. Everybody can see their culture in this book.

A REFLECTION OF LOVE

This book is a tribute to all Big Mamas (grandmothers and mothers) who go above and beyond, but for the holidays they make it even more special… cooking favorite meals to feed the soul of their family members.

TEACHABLE MOMENT

It provides a teachable moment about the history of soul food in the black community along with illustrations of different foods. It's also a book that can be enjoyed by adults. Readers have commented that this book brings back good memories of their childhood, spending time with their Big Mamas, and eating good soul food.
The 12 Days of A Soul Food Christmas
This is a whimsical new version of the 12 days of Christmas with a soul food twist. It illustrates the love of a grandmother as she goes above and beyond preparing her grandchildren's favorite soul food over twelve days until Christmas. As the grandmother hums to the tune of the 12 days of a Soul Food Christmas, the grandchildren start to sing along. This book is unique because it provides detailed images of a soul food Christmas celebration in the black culture. It illustrates a tradition of soul foods enjoyed during the Christmas Holiday.
Regular price
From $3.15 USD
Regular price
Sale price
From $3.15 USD
Unit price
per